Bed, Breakfast & Birds


Bird Watcher?
The White Mountains offer a plethora of opportunities year-round for Bird Watching! From birds who make the White Mountains and Mt. Washington Valley their year-round home to migratory birds.
Mary Ann will guide you to areas known for bird watching and provide you with a box lunch and snack! In the Spring enjoy the return of Bluebirds, Robins, Indigo Buntings, Cedar Waxwings, Woodpeckers – including the Pileated Woodpecker. The Hummingbirds return to our feeders around Mid-May and entertain all with their aerial antics until they depart in Mid-September.
In May the Ospreys return to nest and hunt at the Pontook Dam and along the Androscoggin River. Bald Eagles hunt regularly along the Androscoggin River behind the B & B. Pondicherry Wildlife Reserve is not far from the B & B and offers a quiet, relaxing walk to observe a wide variety of birds.
Want to spend the day on the River?
No problem – Great Glen Trails offers guided canoe and kayak rentals along the Androscoggin River and Bethel Outdoor Adventures offers self guided canoe and kayak rentals along the Androscoggin.
Our Bed, Breakfast & Birds Package includes …
Two nights lodging for two
A hearty hot country breakfast each morning. A to-go breakfast is available upon request for those who wish to head out before the crack of dawn.
A brown bag lunch and snack
A re-useable water bottle for your day and to take home
A map of Pondicherry – Silvio O. Conte National Wildlife Refuge
Use of a variety of our birding guides during your stay with us

Rates:
Two-Night Package Rate for Two – from $195
We love birds! Can you tell? Breakfast is served in our Hummingbird Dining Room. Our rooms are named for the various birds in the area. A favorite pasttime of many of our guests is relaxing on our porch and watching the hummingbirds at our feeders. Very entertaining. Loons can be seen and heard when floating in the area waterways and the sighting of a Bald Eagle or Osprey will be breathtaking.
The Mt. Washington B & B offers a quiet relaxing atmosphere.
Come join us and get away from it all!
Packages must be reserved at least 48 hours in advance.
Mid week packages are also available.
Would you like to blend packages?
No problem!  Just let us know and we'll take care of that for you.


BOOK NOW
Click to check availability online …


To Reserve…
call 877-466-2399 or 603-466-2669
Be sure to read about our Inn Policies, Deposit and Cancellation Policy before making your reservations.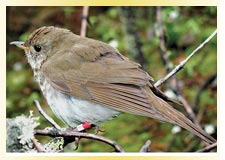 Interested in the Bicknell Thrush?
This extremely rare species has chosen the higher elevations of Mt. Washington for their breeding grounds. Check out our June Bicknell Thrush Package for complete details.