Bed & Breakfasts Inn Mount Washington Valley of New Hampshire will again host THE GHOST & GOBLIN TRAIL. It's next in the series of "not just another seasonal inn tour." This is your
chance to travel around the White Mountains, in or out of costume, and experience eight unique Inns while "Trick or Treating". Each participating Inn will offer a frightfully unique experience! If you arrive in costume or Halloween make-up you will receive a Treat. If you dare not, you will be provided with a Trick to perform to earn your Treat. Scare up your ghoulish gang and come with friends. Best overall costume, as voted by all the Innkeepers, will win dinner for two at the Notchland Inn. Each Inn will celebrate the season in their own style - scarecrows, pumpkin people, jack-0-lanterns, cauldrons, witches, black cats, ghosts & goblins - oh my!
New this year is The Great Mystery Muddle of the White Mountains, a riddle and jumbled word contest. Each inn on the tour will accompany their gastronomic goodie with a clue to information hidden within their tour booklet page. If properly interpreted, the single letter revealed at each stop when Ade-jumbled with all of the other inns letter clues, will Inn-form the diligent detective and solve The Great Mystery Muddle of the White Mountains. The lucky winner of this jumbled word and riddle game will be chosen by random drawing should more than one savvy sleuth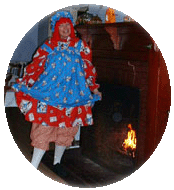 unscramble the correct answer. The grand prize is valued at over $400, including a $200 gift certificate good toward a two-night stay at any participating Bed & Breakfasts Inn Mt. Washington Valley!

This Halloween celebration will take place on 2016 date TBA. We look forward to opening our doors to you...hee, hee, hee, hee, hee, hee...
Ghost & Goblin Packages! Think Halloween is not just for kids? Then these frightfully delightful packages are for you!