The early birder catches our
Bicknell's Thrush Package
Mt. Washington is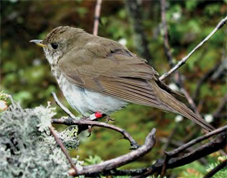 one of two Bicknell's thrush habitats in the northeastern US. The Mt. Washington Auto Road offers Bicknell's Thrush Tours, offering a wonderful opportunity to see these rare birds.

Join the Mt Washington Auto Road on a guided Bicknell's Thrush tours on
June 3, 5, 7, 9, & 11, 2018 to look for the Bicknell's Thrush.
We will be offering an "Early Birders" To Go Breakfast on those mornings to take with you on your birding adventure - with the option of joining us for our hearty hot breakfast after you are done - served between 8am and 9:30am.Tours depart at 5:30 and you need to be there by 5:15 - Mary Ann wants to get you there on time!
Early Birder Catches the Bicknell's Thrush Package:
Includes 2-nights lodging, an early birder to go breakfast, our hearty hot breakfast when you return from your Bicknell's Thrush Tour, to go coffee/tea/hot chocolate and a snack.

Also includes tickets for
The Mt. Washington Auto Road's
Bicknell's Thrush Tour,
and home baked goodies and
beverages in the afternoon.

Rates start at $280 for 2 people.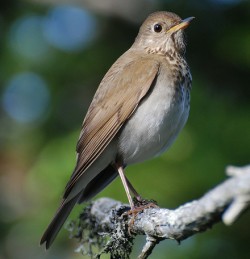 "Bicknell's Thrush is an extremely rare species with very limited breeding grounds. It is the rarest and most secretive of the breeding thrushes in North America and it is the only bird whose breeding is restricted to the Northeastern part of the continent. They usually breed at higher elevations, normally nesting above 3,000 ft. The unique yet harsh climate is just what the birds prefer due to the combination of low vegetation and abundant moisture, and the Mt. Washington Auto Road offers you a unique opportunity to view these rare birds."
From the Mt. Washington Auto Road


You might want to bring: binoculars, camera,
warm clothing, daypack, hiking shoes…
---
Want to blend packages?
No problem, just tell us what you want,
we'll put it together and let you know what the cost is!
---
All rates include a full country breakfast!
Packages limited to availability.
All rates are per room/double occupancy
Rates do not include NH room and meal tax.